HOLY FAMILY COLOUR RUN IS BACK!!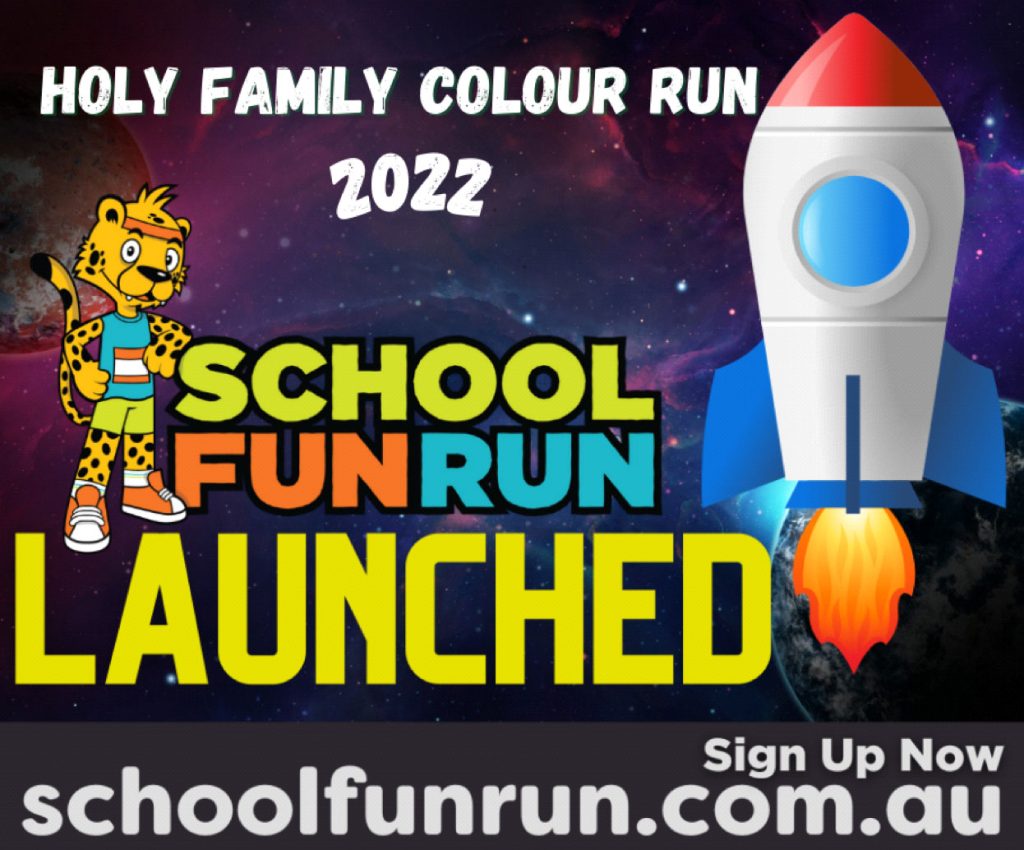 The biggest, brightest day in our school calendar is back!! On Friday 2nd December we will see our school grounds turned into a cloud of colour and fun! And we want to make this year's event bigger and brighter than ever!!
The funds raised this year will help introduce music programs to ALL classes in 2023 and beyond! So get behind the event and get ready for some fun!
How does my child participate?
Our SchoolFunRun website is now open for registration. You will need to register your child as confirmation of their partaking in the day. Once your profile is active you can share the link with family and friends to get their support for our music initiatives. Go to www.schoolfunrun.com.au to get your child registered. Note – if your child has taken part in a fun run with the school in the past you simply need to reactivate their profile.
Competition Time
To get our event off to a flying start we have a simple competition: the class with the most online profiles registered by Thursday 10th November will win a class party! So make sure you get online and create your profiles ASAP! There will be more competitions as we get closer to the event date.
FAQs
What happened to my child's fundraising activity in 2021?
We had to make the tough decision not to proceed with the Colour Run last December as the weather was too unpredictable.
The funds that were raised and prizes that were ordered went on hold until our 2022 FunRun was confirmed.
If your child ordered prizes in 2021 they will be delivered to the school shortly and distributed to them in class. The funds raised in 2021 helped to subsidise the re-introduction of our school band.
What does my child need to run?
The Colour Run is BIGHT and MESSY! All products used are food grade and free from nasty chemicals or inclusions. Did we mention it's messy?! Get yourself a WHITE TSHIRT, some old shorts and old runners for the day. Maybe opt for a cheap pair from Kmart? Oh and bring a towel/sheet for them to sit on in the car on the way home!! The mess is SOOO worth it!
What if my child doesn't want to be coloured?
No worries! We have a special non-colour lap factored into the day and your child can still enjoy the fun of running through the course and opt in to running through bubbles and/or water pistol alley! We will collect more details on these preferences closer to the day.
Is the course accessible?
YES!! With the opening of our new ramp and the upgrade of our lift, we are so excited that our event can be even more inclusive this year!
We have a special lap planned for any students with mobilty issues. There will be a separate communication sent to those families to discuss what will work best closer to the date.
Does my child have to fundraise?
Fundraising is a completely personal choice for each family. While we encourage all students to raise some money on their profile, it is not mandatory.
The money raised will help ensure that ALL students can access some amazing music programs in 2023 and beyond, so we'd love for everyone to get behind this target and support! Even just $20 helps!
What are the prizes all about? It seems to be all my child talks about!
The partnership that the SchoolFunRun team brings to any school includes the distribution of fundraising prizes to the students.
Your child can select a prize based on the amount of funs they raise. The more they raise the bigger the prize. We don't focus on this aspect of our fundraising, it's something that is simply part of our partnership with the SchoolFunRun.
But we understand that for little kids it might be all they think about. It's a small by product of being involved.
One suggestion that's worked in prior years is to select a prize that can be donated to a children's charity as a Christmas present. We will share more details on this closer to the day.
Can I get involved?
YES!! We need a little army of parent helpers to make sure the day is a great success! There will be two rosters available – AM and PM, and some roles need to be at school for the whole day!
This year we would really like to fill our volunteer positions with parents from KINDY and YEAR 1 to start – as the two classes who have not experienced this event yet. That doesn't mean others cannot get involved. If you are interested, please email our Fun Run Co-Ordinator – Olwyn Connolly (Eabha in Year 1) olwynodowd@gmail.com.