To support our school community, we're organising a webinar with one of Australia's leading parenting experts and is a highly sought-after international speaker and author, Dr Justin Coulson on strategies that you can put into practice on the spot to help curb anxiety, build confidence, and restore resilience in your child. And if you struggle with anxiety yourself, you'll be changed.
Anxiety has become one of the leading causes of ill-health in our children. And it's also affecting more parents than ever before. The COVID-19 pandemic has exacerbated what was already an accelerating problem.
Can we stop anxiety? Where is it coming from? Are our kids bubble-wrapped snowflakes that just need to "toughen up" and get over it? Or is there an approach to our children's anxiety that can build them, encourage them, and give them hope?
This webinar will provide the answers every parent needs to help their children – and even to help themselves.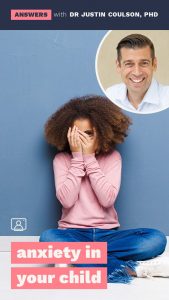 Over the course of a 90 minutes, Dr Justin Coulson will help you to:
Recognise anxiety in your child and know how best to respond when anxiety flares up
Become a supportive hope-giver to your child to empower him/her to be courageous in the face of anxious thoughts
Uncover the research-based #1 strength your child can develop to combat anxiety and develop remarkable resilience.
Identify how your own anxieties could be affecting your child, and know how to manage them
Learn proven strategies to help both you and your child navigate and manage anxiety when things get stressful
The webinar will be recorded, so don't worry if you can't make it – a link to the webinar will be made available for 7 days after the event.
When: Wed, 8 September 2021 | 7.30pm AEST
How to join: click here to join
Click here to register to the seminar